Were you looking for the character?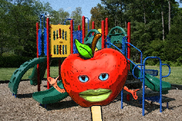 Happy Appy
Season 0, Episode 0
Air date
April 26, 1999 - present
Written by
Freddrick Gorgote
Directed by
Unknown
Episode guide
Previous
None
Next
None
Happy Appy
was a TV show that broadcasted on Noggin. (Now known as Nick. Jr) It was removed from being shown to the public due to its graphic, scary nature.
See List of Happy Appy Episodes
Freddrick Gorgote
Kevin Costo
Norman McCube
Jim Forester
Producers
Edit
Freddrick Gorgote
Kevin Costo
Jim Forester
Directors
Edit
Jim Forester
Norman McCube
Kevin Costo
Voices (1999)
Edit
Blair Meyes - Happy Appy (all episodes)
Ray Boilla - Danny
Miranda Bollia - Miranda
Dick Beals - Nate
Stan Freberg - Bully
Tara Strong - Math Kid (Happy Goes To School)
Pedro Gonzalez - Narrator (Happy Appy Movie Pt 2)
Jackie Gleason - Reporter (Nate Needs Help), Father (Happy Appy Movie PT 2)
Tress MacNiellie - Teacher (Happy Goes To School)
Hamiltion Camp - Art Kid (Happy Goes To School)
Mark Hamill - Lifeguard (Happy's Vacation)
Dom DeLuise - Bully (Hurt Happy)
Arnold Stang - High Pitched Kid Voice (Happy Appy Movie Pt 1), Offscreen Man (Lost Episode)
Marvin Kaplan - Bully (Happy Appy Movie Pt 1)
Tony Jay - Bully (various episodes)
Frank Welker - Vocals (all episodes)
Voices (2012 - present)
Edit
Llyod Myers - Happy Appy
Ray Bollia - Danny
Tara Strong - Lisa
Frank Welker - Nate
E.G Daily - Miranda
Steven Spielberg - Bully
Other crew
Edit
John Tresti (music)
John Wilkinson (scripts)
Tristan Drews (designer of Happy puppet)
Happy appy is a creepypasta.
TBA!